The first step to create performance of an organization is to adopt top class human resource, placing the right people in the right jobs, correct promotion. HPO Creationsupports the adoption, arrangement, and promotion of [placing the right people in the right jobs] of your organization by the unique revolutionary assessment tool
in the world to understand the (Whole person) US TTI Company "Trial metrics" first introduced in Japan.
Benefit of overall human resource assessment
1.

Employment of best fit human resource.


Can check the degree of success and fitting in the business by comprehensively looking the (nature, behavioral trait, and sense of values) capability but not the personality.

2.

Arrangement of the right people in the right jobs


Can judge the comprehensive matching with the business and work culture.

3.

Check at the time of promotion to manager, recruitment from outside


Filter the base suitable human resource, clarify the standard of the leader, and avoid recruitment of ineligible person.

4.

Check the strength and improvement point of the human resource at the time of training and coaching


Indicate the future strong point precisely along with present strength and weakness, and support the creation and execution of performance strength policy.

5.

Creation of competency necessary for your company


Create the concept competency obtained in the company and the occupational category (ability, behavioral trait, and sense of values), and use as recruitment standards and promotion criterion.
Characteristics of overall human resource assessment
1.

Can judge the adaptabilities such as human resource and duty, corporate culture by completely checking such as "Sense of values", "Behavioral trait", and "Intention and ability", but not "Character", "Aptitude".

2.

It is possible to compare it with the outside because there is the benchmark data of the suitability type of each major duty.

3.

It is possible to complete it easily online without worry about the place and time.

4.

An objective evaluation can be performed because cannot perform the person in question's subjective self-evaluation and ideal answer.

5.

It is possible to use with peace of mind because validity of accessment (Validity) and reliability (Reliability) are confirmed in 9 tests of public third party organization in Europe and America.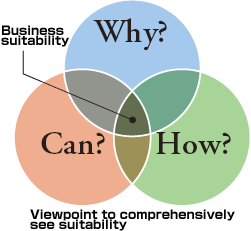 Integrated human resource assessment introduction organization results
The results such as business productivity improvement, and the turnover rate improvement, etc. are achieved from 100,000 or more organization from the enterprises to the universities and the government office such as

●

3M

●

American Express

●

AT&T

●

BP


●

Coca-Cola

●

GE

●

IBM

●

Mariott


●

Mary Kay

●

Mercedes-Benz

●


Motorola, Inc.

●

Nabisco

●

Philip Moris


●

Philips.